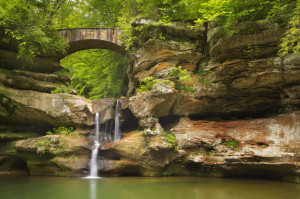 Hocking Hills State Park is one of the most popular and beloved getaways in Ohio. With its nature trails, crystal-clear streams, cascading waterfalls, and breathtaking views, it's no wonder why so many visitors come to this region every year. If you're looking for a memorable outdoor adventure, Hocking Hills won't disappoint!
In this blog post, we'll be exploring the best activities to do at Hocking Hills State Park and how to plan your trip. From camping and hiking to rock climbing and more, discover what makes this state park so special and why it should be on your travel bucket list.
Location and Getting There
Hocking Hills State Park is located in southeastern Ohio, approximately 1.5 hours from both Columbus and Cincinnati. The park is situated within the Hocking River Valley and features a number of striking geological features created by glaciers and rivers over millions of years.
The best way to experience all that Hocking Hills has to offer is by hiking the many trails that wind through the park. There are trails for all levels of ability, from short, easy walks to longer, more challenging hikes. No matter which trail you choose, you're sure to be blown away by the natural beauty of the park.
If you're planning a trip to Hocking Hills State Park, be sure to check out the website for more information on how to get there and what to expect when you arrive.
Weather and When to Visit
The best time to visit Hocking Hills State Park is in the spring or fall. The weather is mild and the scenery is beautiful. However, if you are looking to hike and camp, summer may be a better option as the days are longer. Just be prepared for the heat! Bring plenty of water and never hike alone.
What to Do
Once you're in the park, there are plenty of activities to keep you busy. For starters, check out Old Man's Cave, which is one of the most popular attractions in the park. The cave got its name from a hermit who used to live there back in the 1800s. There are several trails you can take that will lead you to different parts of the cave. There's also Ash Cave, which is a huge amphitheater-like recess cave that's definitely worth checking out. Or if you're up for a challenge, try hiking to Conkle's Hollow. It is considered one of the most difficult hikes in the park but also has some of the most beautiful views.
Whichever attractions you decide to check out, just be sure to wear proper footwear and bring plenty of water and snacks with you since some of the trails can be quite strenuous.
Places to Stay
There are many great places to stay when visiting Hocking Hills State Park. Whether you are looking for a place to camp or a place to stay in a hotel or cabin, you will be able to find what you are looking for.
If you are looking to camp, there are a few different campgrounds that you can choose from within the state park. All of the campgrounds have different amenities, so be sure to check out what each one has to offer before making your decision. There's even primitive camping for the true adventurer. If you prefer a place to stay in a resort lodge or cabin, there are plenty of great options in the area as well. Be sure to do your research before booking so that you can find the perfect place for your visit.
Conclusion
Hocking Hills State Park is a wonderful destination to explore and can provide the perfect getaway for anyone looking to experience nature in its most pristine form. With the right plan in place, you'll be able to make the most of your time at Hocking Hills State Park and create memories that will last a lifetime. So, grab your hiking gear and come enjoy all that this amazing state park has to offer!
Need help managing your HOA community in Columbus and its surrounding areas? PMI Scioto Metro has you covered. We provide high-quality community management services to communities in Columbus, Worthington, Westerville, Gahanna, Reynoldsburg, Groveport, Grove City, Hilliard, Dublin, and Upper Arlington.