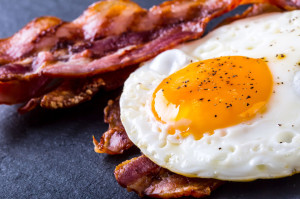 One of the most notable attributes of Columbus is the thriving and bustling Ohio State University. Unlike other cities where the campus feels like an entirely distinct entity, Ohio State feels much more integrated into the city. With that in mind, it's not unreasonable to check out the area near the university for sumptuous dining.
With a few distinctive experiences in that area, there is excellent food and drink to check out while you are there. We picked out just a few restaurants near Ohio State for you to try out on your own, with someone special or with a group of friends.
Be sure to check out each restaurant's website for details on when they are open and to get an idea of the menu.
Ethyl and Tank
One of the better-known names on the Columbus dining scene, this restaurant can be found at 19 E. 13th Ave. It's a brunch place, serves dinner items, and has a popular coffee bar.
Among its more popular items are chicken and biscuits, the OG Ethyl Burger, buffalo cauliflower tacos and the breakfast buffalo nachos. You can also get cocktails as part of your time at this diverse eatery. Go to its website for more information.
Hangovereasy
First of all – bonus points for such a clever name for this place at 1646 Neil Ave. This restaurant advertises itself as a cure-all for a party night out the night before. Among its menu items is the Walk of Shame (a bacon and egg sandwich on a glazed donut!), a sausage skillet made with locally-sourced meat, oatmeal pie pancakes and the So'Cal (a vegan item with pho'rizo, avocados and egg whites).
There are also sandwiches and burgers available if it's more of a brunch cure you are seeking. Find out more about Hangovereasy at its website for its Ohio State branch.
Jack & Benny's 

Another place with a fun pun in its name, although it really did start at its current 2563 N. High St. with the two titular owners, who may or may not be fans of the famous TV personality of the '50s, Jack Benny. The restaurant has been around for a pretty long time — 25 years and counting – and it advertises itself as the "home of the gutbuster." That's a breakfast with eggs, toast, gravy, hash browns, a potato pancake, bacon, sausage and ham.
For something lighter, there are a variety of breakfast and lunch items that you can also check out. Go to their website for more details.
Heirloom
It's clear, though, that not everyone will want a gutbuster – and may even want to stay away from meat. That's where Heirloom comes in, a locally owned cafe at 1871 High St. in the Wexner Center for the Arts. Open for breakfast and brunch, the restaurant includes burritos, house-made granola, handcrafted bagels, sandwiches and wraps and what they call Mean Greens (which are bowls that feature tons of ingredients).
They also tout that all of their food is sourced locally, so you get a true Ohio experience when you dine here. Find out more about Heirloom by going to their website.
What Scioto Metro does for Columbus
We at PMI Scioto Metro want to support the many neighborhoods that make Columbus a fantastic city. To preserve the area's homes, we coordinate maintenance requests that are answered with promptness, supreme customer service and an eye toward quality.
This is just one part of what we can offer homeowners and property managers who are a part of our organization. We believe every property and community is different in Central Ohio, so we bring a new approach every time to the areas we manage. Find out more at our website.